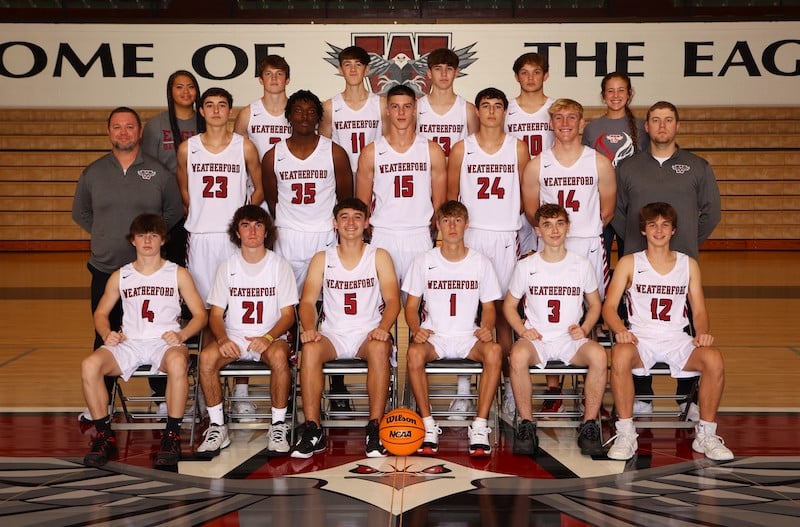 Weatherford boys basketball opens the 4A state tournament at noon Wednesday, March 8 against Newcastle in Jim Norick Arena.
"This team had high expectations coming into this season after making the state semifinals last year," Weatherford head coach Derrick Bull said. "They have worked extremely hard to get back to this point and we are looking to take the next step."
The Eagles defeated Oklahoma Christian School 41-38 in the area championship on Saturday to advance to state.
ROSTER
1 Cy Scammahorn (So.)
2 Cash Jennings (So.)
3 Jackson Meier (Jr.)
4 Dylan Epp (Fr.)
5 Brody Willis (So.)
10 Blakley Rother (So.)
11 Jackson Smith (Fr.)
12 Yukon Butler (Fr.)
13 Hunter Nelson (Fr.)
14 Stone Chism (So.)
15 Nate Reherman (Jr.)
21 Nick Jett (So.)
23 Ethan Sage (So.)
24 Tate Sage (So.)
35 CJ Nickson (So.)
Manager: Myka Taggart
Manager: Taya Cole
Manager: Lakynn Merle
Head coach: Derrick Bull
Assistant coach: Kyle Null
Assistant coach: Adrian Lay
Assistant coach: Jett Snowden